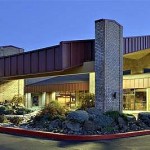 As Senior Warden of Richland Lodge it was my privilege and pleasure to attend the 2015 Lodge Leadership Retreat on March 27th through the 29th, hosted by the Most Worshipful Grand Lodge of Free and Accepted Masons of Washington, at the Pasco Red Lion Hotel.
The weekend agenda was filled with engaging and informative speakers who challenged us to reflect on our roles as officers and leaders, opportunities to listen to and share ideas with members of other lodges, and of course time to fellowship and enjoy a number of great presentations as we gathered together for meals throughout the course of the weekend.

The many events were tailored to address various challenges facing lodge officers, and while we were able to choose the most relevant topics to our particular roles in lodge, it was difficult at times to narrow down those choices from all of the excellent material being presented.


If there was one message that I continually heard coming through all of the presentations, for me personally, I would have to say that message was "planning." Planning early, often and together.
It called to my remembrance the often quoted modern day proverb of caution which plainly states; "failing to plan is planning to fail."
And so as a heartfelt thanks to all of the Grand Lodge officers and staff, as well as those who put in countless hours behind the scenes to make the past weekend possible, let's all be actively "planning" to continue doing great things together in masonry and leave our own legacy upon which future generations of masons can continue to build in this time honored tradition.
Fraternally,
Bro. Larry G. Wilson
Senior Warden, Richland Lodge No. 283